A big thanks for Joe who provided this Obituary for William E. Hamelman, a man who chanelled his efforts into a book that shaped my collecting career.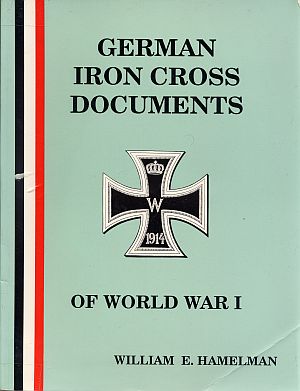 Dr. WILLIAM E. HAMELMAN

Born 7/5/27 St. Louis, MO. Died 11/1/12 McKinney,TX

I regret to announce the death of Dr. William E. Hamelman at the age of 85.
His long struggle with Diabetes and Parkinson's Disease did little to diminish
his inquisitive nature, his intellect, and his sense of humor which he maintained to the end. He was interred at Dallas/Fort Worth National Cemetery 11/30/12 with
military honors.

His father,the only one of seven German born brothers to come to the United States, kept close contact with his family throughout an era including World Wars 1 and 2, when many of his family members were in the German Army. This was a seed for William's longstanding interest in military history and ultimately heraldry and phaleristics.

William was in the US Navy during WW 2 aboard the troopship USS General A.E. Anderson (AP-111). Actual footage of this ship may be seen at the end of the movie "The Great Raid", a chronicle of the first "prisoner snatch" involving the rescue of ~400 American POW's from a Japanese POW camp at Cabanatuan. William was aboard as these men were brought back to San Francisco.
(Of note: Our discussion of this trip was the only time i saw this man who truly believed that laughter was the best medicine shed tears on describing the mental and physical condition of these POW's.)

During the Korean Conflict, a captaincy and Lady Luck landed him in Europe where he enjoyed his extended family and the opportunity to cultivate contacts in many of the small towns he explored regarding the decorations of the German Empire. He was to make more than 20 trips of an extended nature to pursue his interest and research on medals, helmets, uniforms, documents, and their recipients.

It was in 1965 that he met and married the love of his life, Helaine, while practicing chiropractic in Dallas TX. I have it on very good authority that she has been proposed for Sainthood, as her presence catalyzed and organized much of what he was to produce over the next several decades.

William spent the late 60's through the 80's involved in stage and movies, and worked with Mickey Rooney, Elke Sommer, Gene Rayburn, "Peter Gunn", Jayne Russell, Rose Marie, and Julie Newmar, among others.

For those who visit this website, perhaps his greatest contribution were his books:

-Of Red Eagles and Royal Crowns
-The History of the Prussian Pour Le Merite (three volumes)
-German Iron Cross Documents of World War 1
-German Wound Badges 1914-1957.

These were his "babies", his life's work, his pride and joy.

In an age where the marvels of gigabytes and jpegs account for much of the information we have at our fingertips, William was the ultimate detective, spending years chasing down leads and putting the pieces together. His love of the pursuit of knowledge and detail are inspiring and to honored, remembered, and mimicked.


MAY HE REST IN PEACE