On the 21st of March 1918 the German 208. I.D. left their lines at Bellenglise and advanced against the British 24th Division at Le Verquier and Maissemy. The Division was on the left flank of von Marwitz's 2nd Army and was advancing as part of the Michael Offensive, its eyes on Peronne which lay due West.

Left: The Braunschweig War Service cross awarded to Friedrich Freise.

Following the 208. I.D. into battle was the 19. I.D. which included the 74. Infanterie Regiment from Hannover. While the 208. I.D. bypassed resistence in an effort to penetrate the British lines as deeply as possible, the 19. I.D. was supposed to mop up pockets of resistence left behind by the stormtroops.



To place in the action within the bigger picture of the offensive, please click HERE

To open a map of where the action took place, please click HERE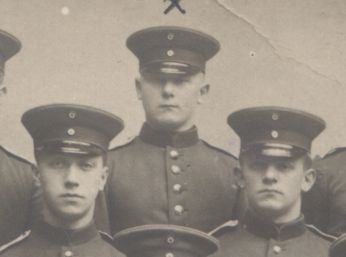 Wounded on the 1st day of the offensive was an Austrian serving in the 74. I.R. named Friedrich Freise. Freise had started the war by participating in the attack on Lüttich. He won the Iron Cross while fighting on the Stochod in June-July 1916 and took part defending against the Nivelle Offensive in 1917.

Freise was wounded on the 21st of March pretty much as soon as the Division left its starting blocks. Hit by the splinters of a handgrenade, he was at close quarters to the enemy, probably involved in mopping up a British Strongpoint. After a spell in hospital he was back at the front with the 465. I.R. fighting in the battle at Soissons and Rheims in June 1918.

On the 29th of September 1918 he was captured by the French at Leuilly.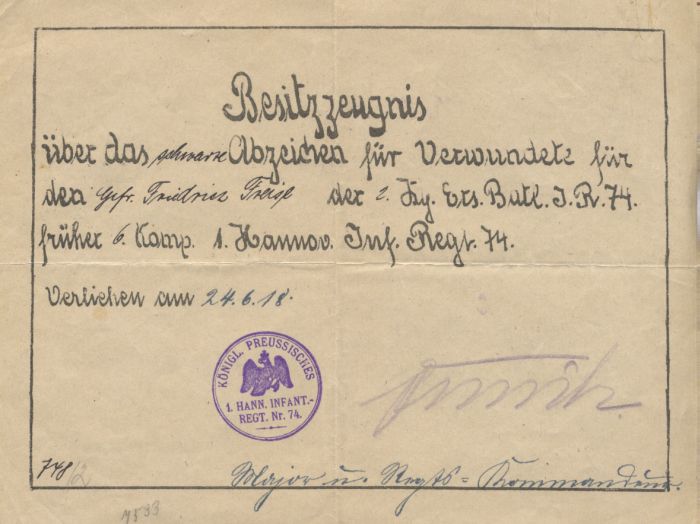 The Wound Badge document is a special print for the Regiment.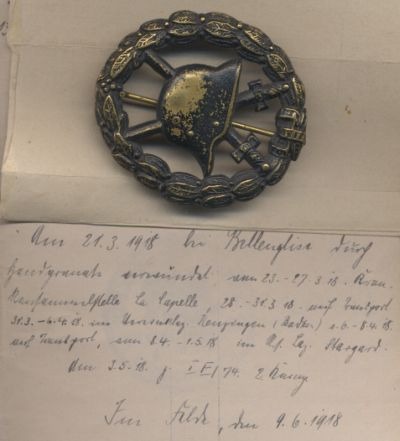 The entry for the hand grenade wound in Freise's Militärpaß. An unrelated wound badge is pictured for display purposes.


Freise and his Division had been on their way to Le Verguier when he was wounded.

Inspite of the terrible bombardment that preceded the offensive the Soldiers of the British 24th Division did not give up without a fight and a Victoria Cross was won by Corporal John Sayer who was mortally wounded during the action.

"It was during the fighting in the village that Corporal John Sayer won his VC when holding the flank of an isolated post for two hours. Although the enemy was extremely close to his position he was protected by the thick mist and managed to repel a series of attacks and inflict heavy casualties. He held on to the point when most members of his garrison were killed or wounded and he too was wounded. A short time later he was captured"

A link to the article about John Sayer can be found HERE.